SCF 2011 foals
GQ above, Gaia below
Gaia SCF
for sale
First Premium KWPN filly
3-26-11 Black KWPN filly Balou du Rouet x Nova keur (CONSUL)
3-26-11 Black KWPN filly Balou du Rouet x Nova keur (CONSUL)
Sporting Chance Farm is proud to announce the Birth of Gaia SCF (Balou du Rouet X Nova Keur (full sister to Judgement ISF Crown)! Gaia is a full sister to Eclipse SCF, the #1 2009 KWPN Jumper foal in the USA! She is the first foal of the year for us. Gaia was the mother goddess who presided over the earth in Greek mythology
(Goodtimes VDL X Moriana by Coriano)
Sold! Congratulations Debbie!
Goodtimes 2011 bay KWPN colt with Chrome
Lupicor x Bleu SCF 2011 sabino chestnut colt
Geronimo
First Premium KWPN colt Veron x Marie Louise

an Elite Préfèrent mare!
(Silvio 1 X Sit This One Outxx X Saluut Dark bay KWPN colt foaled 5-26-11
Gaia SCF
First Premium KWPN filly
3-26-11 Black KWPN filly Balou du Rouet x Nova keur (CONSUL)
3-26-11 Black KWPN filly Balou du Rouet x Nova keur (CONSUL)
Sporting Chance Farm is proud to announce the Birth of Gaia SCF (Balou du Rouet X Nova Keur (full sister to Judgement ISF Crown)!


Gaia is a full sister to Eclipse SCF, the #1 2009 KWPN Jumper foal in the USA! She is the first foal of the year for us.Gaia was the mother goddess who presided over the earth in Greek mythology
Nova is A FULL SISTER TO JUDGEMENT ISF !
Gaia is a full sibling to 2010 First Premium filly Fortuna and First Full sibling to this cross, Premium 2009 filly Eclipse SCF, jumper foal champion at the Iron Spring Keuring.
and a Full sibling to 2010 filly Fortuna SCF
click HERE for new video of Balou du Rouet
| | | |
| --- | --- | --- |
| Name: GOODTIMES | | Rijpaardtype |

Performance 1991
Intelligent, friendly, attentive, playful, honest, good humored, and impertinent in a pleasant way. He was saddle broke at the start of the test. He has a great deal of power and suppleness with strong use of the hindleg. The walk is more than sufficient. The trot is more than sufficient and is sufficiently carried with a lot of knee action. The canter is well carried, elastic and big. He has a good take-off in jumping, good leg technique, good bascule, a lot of scope; he pays attention to the jump. He does very well in cross-country. He makes strong demands on his rider in order to get good results. He gives an average feeling in dressage and a very good feeling in jumping. Work is easy for him and he is very willing to work. He has sufficient talent for dressage and a great deal of talent for jumping. He was in good condition upon arrival and remained that way. Good stall behavior.

Lupicor x BLEU SCF
black sabino 2006 KWPN mare AWARDED STER PREDICATE AT ISF KEURING
(BALOU DU ROUET x MARIE LOUISE ELITE)
(BALOU DU ROUET x MARIE LOUISE ELITE)
***Bleu was TENTH in the USA in THE KWPN-NA TOP TEN !!!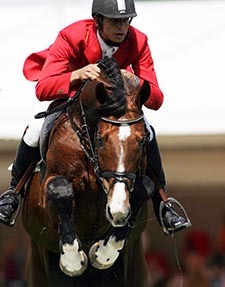 Lupicor - H

Date of foaling

1995

Colour

Bay

Height

173 cm

Studfee

1.250,00 €
Fresh Seemen when not in competition


KWPN,
Westfalen Approved